DreamMix All-Stars: Next-Gen Heroes' (also known as DreamMix All-Stars Adventure) is an upcoming crossover action-adventure game, exclusive on Sploder.com. It was first announced during Christmas' Eve on December 2013 and the game is currently in planned as a game made with Sploder's untitled "collaborative" game creator. The game features a variety of characters from Sploder game series and established video games, such as the Super Mario. series. Also it will introduced new original characters.
Development
Edit

DreamMix All-Stars: Next-Gen Heroes is currently in planned for the new "collaborative" game creator, in which allows members to collab with another to make their own games. It was first announced during Christmas' Eve on December 2013, that Mangamixer was originally making a Tigzon/Sploder series crossover but changed to crossover with characters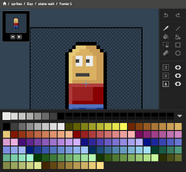 from established video games because many members of Sploder.com are making games that parodies or based off it.
DreamMix All-Stars was inspired by a Playstation 3 game, PlayStation Move Heroes and the Nicktoons Unite! series, though those games are poorly received by fans and critics. The script was written by Aaron "Naruichi97" Montalvo and Alex XD Junaibi, in which the story of the game is a mixture of comedy and action.
A mysterious overlord, known as King BladeLord have scatter some video game characters from different universe (including Mario, Sonic, Link, Kirby, etc.) to a unknown time that they will never explained and was planning to destroy their own universe with a hordes of his beast minions. A team of Sploder series characters must join together to save them and to defeat the King BladeLord from his disaster.
Characters
Edit
Playable charactersEdit
| Names | Game/series | Creators |
| --- | --- | --- |
| Alex "Ashiko" Chang/Tigzon | Tigzon | Gamerdeath722/MangaMixer |
| James Sandsoul/Desert Wolf | Desert Wolf | Dealwithitdewott |
| Petit Chevalier | Petit's Adventure | Rich3001k |
| Matthew | Skyward | Poostudio/Scoutile/Goomylord/Almightygoomy |
Established characters
| Names | Game/series | Companies |
| --- | --- | --- |
| Mario  | Super Mario Bros. | Nintendo |
| Sonic  | Sonic the Hedeghog  | Sega |
Ad blocker interference detected!
Wikia is a free-to-use site that makes money from advertising. We have a modified experience for viewers using ad blockers

Wikia is not accessible if you've made further modifications. Remove the custom ad blocker rule(s) and the page will load as expected.