yeah lets do this again
BTW no games that are meant to be crossovers, games like CPX and Sploder Fighterz are obviously excluded.
Skyward has crossed over with the Petit series a lot; some games that exemplify this are Skyward Powers and its remake, B-Ball Plus, and Sun Kenny in Petit's World. Matthew appears as a merchant in B-Ball/Sun Kenny and Petit appears in the two Powers "DLC" packs. Sun Kenny is a part of the Racket Frog series (Kudzu from Petit is the location of Sun Kenny in Petit's World so it is clearly connected to Petit), Ballistic is part of the B-Ball subseries, plus a Puffie from Tigzon and an Orbler from Desert Wolf appear as well. This triangle of games connects more series than it should, at a whopping 6. Plus, in Petit Lost Again, characters from Tigzon and Desert Wolf appear. Plus in Desert Wolf 3 Part 1, Alex makes a cameo appearance. Kipo from the Kipo series also appears in Petit Shore.
In Jingo 2, Puffies and Tigzon appear connecting their two worlds. Schnee appears as an enemy in Water Sea Wars bringing it to the mix. Plus, Schnee-like snowmen appear in the original Skyward as well as Bob from Cube Fighters. Citten from the MJD series and Jessica from Catlorful look alike but nothing has been confirmed about the two being twins/born in the same litter/etc. Very old games in the MJD series feature Joe from Religious2's WKS games and some games by other users feature both Zack and Joe. Religious2 announced a movie featuring Joe, Mike, and Nick, connecting WKS, Blind Guy, and Nerdy Nick.
Birds from TB&TB appear in some of Sceptile's other games (plus they appear in Cube Fighters 2 but that was made by myself), connecting all of Sceptile's games as a whole. Plus Shadow Seekers exist, which also commonly reccur in his games. Some real video game characters make appearances in Sceptile's games, plus in other Sploder Series too. In SP:PE, a Goomba from Mario and Lucas (SM4SH DLC PLS NINTENDO DO IT) from MOTHER appear, and in Tigzon Mario and Sonic can be found in crates. Matthew has also been in Tigzon's world, as shown in one of Mangamixer's games. In Skyward Revelations, Lectred Z ships appear. In Battleshark's Super Ragdoll Fighter games, both Zack and various characters from Battleshark's Berk Heroes appear.
Characters from PuzzleGuy, Jingo, and Petit cameo in SS72's The Christmas Mystery, adding PuzzleGuy to the web. Characters from the (dead) Polvo series appear in Skyward/Revelations.
here's the web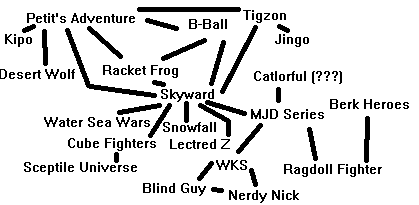 Ad blocker interference detected!
Wikia is a free-to-use site that makes money from advertising. We have a modified experience for viewers using ad blockers

Wikia is not accessible if you've made further modifications. Remove the custom ad blocker rule(s) and the page will load as expected.