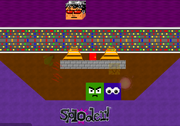 This is certainly a thing.
I have no idea what this was supposed to be. It probably wasn't a new Sploder Series, as it looks similar to Cube Fighters, but it plays more like Smash Bros. Perhaps a spinoff? IDK. Maybe it was just in its early stages of development and no graphics had been made for it yet and I was just using Cube Fighters cubes. I don't really need another fighting game as I already have Sploder Fighterz, Cube Fighters, and my upcoming Smash Bros. games.

Should I revive it?
Ad blocker interference detected!
Wikia is a free-to-use site that makes money from advertising. We have a modified experience for viewers using ad blockers

Wikia is not accessible if you've made further modifications. Remove the custom ad blocker rule(s) and the page will load as expected.