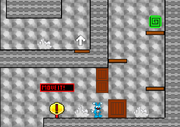 Racket Frog Stage 5 will be split into 2 parts, similar to Desert Wolf 3 World 7. The two parts will probably be released before September 12th.
Racket Frog will have a smaller hitbox. Before, Racket Frog's sprite appears to glitch whenever he is near, for example, a laser. You would stand in a spot where you don't seem to be touching the laser's spawn point, and still get hit. That is due to his sprite size.
Now I've edited one of his walking animations so that the chance of that happening is lowered. I've already edited the already-released stages to make him have a smaller hitbox.
A Sploder Series-related surprise is coming tomorrow. Be hyped (it's not a game btw)
Ad blocker interference detected!
Wikia is a free-to-use site that makes money from advertising. We have a modified experience for viewers using ad blockers

Wikia is not accessible if you've made further modifications. Remove the custom ad blocker rule(s) and the page will load as expected.