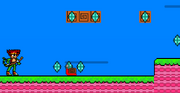 Announcing Sun Kenny in Petit's World.
The story is set slightly before/at the same time as B Ball Plus.
Sun Kenny lands in Shrub Town, Kudzu (which is retconned to look part more city-like). He enters a Tree Stump.
He says "I've never been here, but this place seems familiar."
The time has come, for the worst but (technically) first Petit game to be remade.
So yes, this will be a remake of Adventure, but with a Sun Kenny twist. The levels will be updated to add a lot more challenge.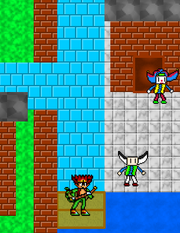 Enemy stomping will return, but for this game only though.
At the end, instead of fighting Vometronz, Sun Kenny ends up in Shellton's sewers.
He sees that Ballistic has saved Puffie, but takes Puffie to test Ballistic's might.
All coming on December 31st.
So, hyped?