I got a featured game.
Bobbler made a thread on the forums where we could suggest games and if he liked them, he'd feature them. Though I suggested Petit Flashback Part 1 and Part 2, he featured Part 1 and Delta, since he loved Delta, I guess.
This is cool, I guess. Had this come at a time where I was addicted to wanting to become popular on Sploder, well, I'd be ecstatic.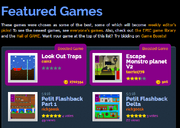 Ad blocker interference detected!
Wikia is a free-to-use site that makes money from advertising. We have a modified experience for viewers using ad blockers

Wikia is not accessible if you've made further modifications. Remove the custom ad blocker rule(s) and the page will load as expected.