I'm not into making games on Sploder but Oh well, I guess I will enjoy the Sploder E3 bandwagon too.
Tigzon Island 
I haven't done anything on updating Tigzon Island but I got only one new update:
Tigzon Island will be releasing sometimes in 2016. Sorry, but I'm just waiting for the new Sploder 3D Game creator
Tigzon 2nd Anniversary game
On the 2nd anniversary of the series' announcement, I'm working on a reboot to the Tigzon series but this time its a Unity 3D project. It will be a 2D platformer but with Sonic and Action RPG elements (Y'll know Sonic VS Darkness and Freedom Planet). I will planned to release some updates for this reboot on this section.
Here's are some of my sprites for this game.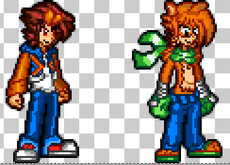 Tigzon spin-off?
Yes, there's is a spin-off to the Tigzon series and its is a Sploder crossover game with the Jingo series. The Jingo and Tigzon crossover will be using the same engine as the Tigzon Island game and the Jingo character will be redesigned by me.
There is also a new Tigzon spin-off called Airlando, starring Leaf Loola (a.k.a Leaf "Runa" Trigger) and the Rawbots pirates (as the main villians) but this will be a 3D action RPG/shooter game and will be made using Unity 3D.
Ad blocker interference detected!
Wikia is a free-to-use site that makes money from advertising. We have a modified experience for viewers using ad blockers

Wikia is not accessible if you've made further modifications. Remove the custom ad blocker rule(s) and the page will load as expected.